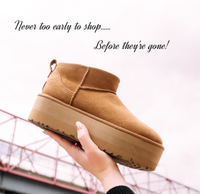 UGG - New Arrivals & Hard to Find Items
Having trouble finding the hottest styles?
Fear no more...
but don't hesitate or you'll miss out!
See what hot items are in-stock or reserve your pair on incoming shipments by Pre-Ordering here.
Shop Now
More In-Store
Additional styles, sizes and colors available in store only.
Visit our store in River Park in Fresno.