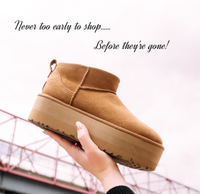 UGG - New Arrivals & Hard to Find Items
Having trouble finding the hottest styles?
Fear no more...
but don't hesitate or you'll miss out!
See what hot items are in-stock or reserve your pair on incoming shipments by Pre-Ordering here.
Shop Now
More In-Store or We can Special Order!
Do you want a style or color you do not see on our website?  Give us a call!
559.438.6662